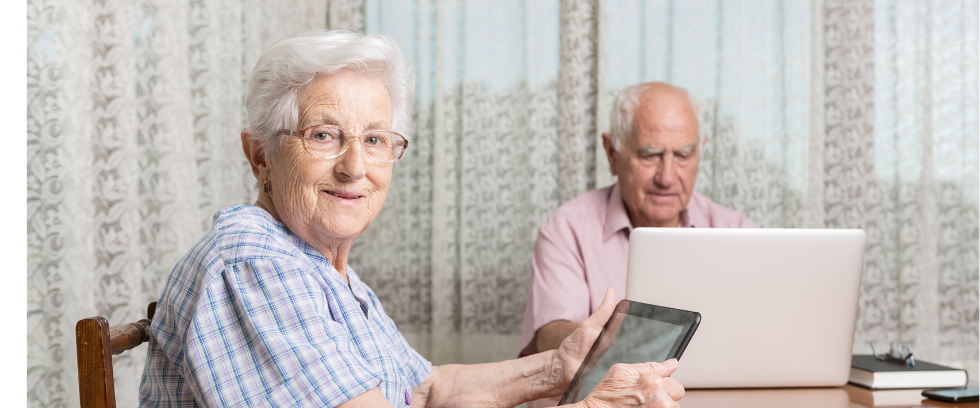 It is now abundantly clear that there is a dire need for alternative ways to helping seniors stay safely at home for longer.
And if the recent statement by Anika Wells, the Minister for Aged Care, is anything to go by, now is the time to start looking for alternatives. According to Anika, the aged care industry in Australia is in crisis with the long-term sustainability of the sector at stake. For it to remain financially viable, urgent reform and an overhaul of the funding model is needed.
Not only is residential care in short supply for the growing aged population, but aged care compliance, staff engagement and retention are also ongoing concerns that continue to impact the quality of aged care. A fact that is further supported by the findings of the Royal Commission into Aged Care Quality and Safety 2021.
Some key issues facing the aged and their carers include:
How to stay connected
Covid's extended impact means that many senior Australians fear the possibility of renewed isolation. A survey conducted in 2020 over the height of the pandemic, highlighted the impact of isolation on older people. And it reported on how assistive technology was used to overcome this isolation. (Families in Australia Survey: Life during COVID-19 Report no. 2):
40% of people aged under 40 had daily contact with family living elsewhere, compared with only 23% of those over 70.
People over 70 were twice as likely as people under 40 to have less‑than-weekly contact (10% vs 4%).
Many older people struggled with video calls. People under 40 were more likely than older people, particularly people over 70 (58% vs 33%), to regularly connect using video call
Whilst staying connected is key to good mental health, the use of technology can be quite daunting for seniors. Families who kept up the best connection often lived close by or used technology like making video calls.
How to stay safe
Safety is a serious concern for many families with elderly parents still living at home. Falls and fires are just some of the many common accidents that can occur. And in many cases, distance apart means that it is difficult to get there in time of an emergency.
Says David Sweet, Managing Director of mycarefone, "We are of the belief that assistive technology will help senior Australians stay safely at home for longer, preventing them from entering residential aged care against their wishes. It's about focusing on the safety of your loved one with easy communication options."
The fear of losing independence
Losing independence is one of the biggest fears of the aged. The thought of leaving their home is a sensitive issue. It can, as a result, lead to poor mental health. It's like giving up part of their life. Support measures that help seniors stay safely at home for longer, can give them a sense that they are still in control.
Managing change
Because no two people's requirements are the same, it's hard to plan ahead. Anticipating and managing change can therefore be a difficult task and can come at an unexpected expense.
"It's for these reasons," says David, "that we've developed the mycarefone solution. If there is anything we've learnt over the last 2 years, it's that staying connected is key to our overall well being. Not only does mycarefone provide 24H medical support, but with our simple all in one home phone and internet solution, the elderly can remain connected at a fraction of the cost of a landline. Whether they reside in a residential care facility or at home alone, our mycarefone phone and medical alarm solution provides a cost effective solution to support independent living."
mycarefone – helping seniors stay safely at home for longer
myhomefone is tackling elderly isolation and keeping older Australians safe with its smart assistive care phone technology. Its mycarefone solution is a low-cost model and simple design just for seniors. Especially those who can't afford increasingly expensive landlines and who most often cannot or do not use mobile phones.
mycarefone gives you peace of mind that your parents or loved ones are safe, while at the same time, giving them the freedom to live happily and stay independent for longer. Plus, if they need to relocate, there's no need for change. Their mycarefone and number goes with them – even if relocating to any aged care facility.
Because it's a flexible plug in and play home phone and medical alarm system, it can be tailored to your requirements as they change.
Home phone and medical alarm monitoring:
Mycarefone comes with a suite of medical SOS accessories that can be added when needed. These accessories are perfect for the elderly who are prone to falls or accidents. They include:
medical pendants and wristbands
motion monitors
fall detectors
shower pull cords
24H alarm monitoring, allows for ongoing and continuous support. And because multiple family members can be added as contacts, family stress is alleviated. Plus cost effective internet connection via WIFI enables face to face video connectivity too.
Additional built in features of the mycarefone handset include:
hearing aid compatibility
a voice amplifier that boosts volume to 40dB
large keypad buttons that are easy to see and use
To see our home phone and medical alarm solutions, visit our mycarefone product page.
To find out how mycarefone is helping seniors stay safely at home for longer, call 1300 031 107, or email us at sales@myhomefone.com.au.
---
---